Services
Reception
The reception is situated on the 1st Castle courtyard inside the pedestrian zone.
Pension guest may borrow an iron or phone charger and they also may store their luggages there.
Exchanfe office is a part of the reception desk.
Pedestrian zone
To enter the pedestrian zone is not allowed from 10am until 5:30pm. Outside these hours you may drive in only with a special permisson, which you may buy at the reception for 100,-CZK.
Parking at the reception is not allowed.
Parking
We provide a safe guarded parking place in the areal of brewery Eggenberg Český Krumlov, which is located 5 mins. walk from Castle apartments. It costs 300,- CZK per day. Also is possible to park in garage on the 1st castle courtyard which is charged 300,-CZK per day.
Breakfast
We would be so glad to invite you for a breakfast which is served daily next to Castle apartments reception. We offer you a standard breakfast.
Wi-fi
Each room has wi-fi connection for free of charge.
Children
For children younger than 3 years is possible to lend a cot (charged 150,-CZK). Please, ask at the reception.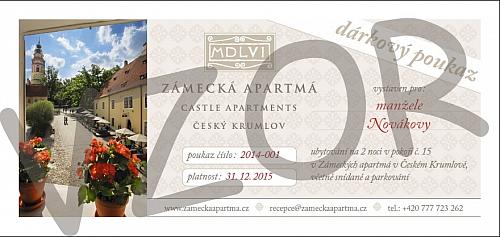 Cancelations
10 – 7 day before arrival                 30 % of whole amount of price
6 – 2 day before arrival                   50 % of whole amount of price
1 – 0 day before arrival                  100 % of whole amount of price